Mark Your Calendars — Master Classes Coming to Buffa's Dance Studio
We love when guest artists visit BDS to showcase their talents, offer up knowledge and share their industry experiences with our dancers and with those in the community.
So mark your calendars for the follow classes! You're not going to want to miss these.
Cat Viger is BACK!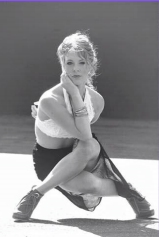 She will be guest teaching lyrical/contemporary Saturday, May 21, 2016
Junior- Grades 3rd-6th
$20
1:30 p.m.-2:30 p.m.
Teen/Senior – Grades 7th-12th
$25
2:30p.m.-4p.m.
Cat has worked with artists such as Beyonce, Anoop Desai on the Monique show, Nickelback, Jessica Ferguson, Layla Lane & also performed with Phelx. Cat is also currently a member of the LA dance group "Flirt" and "Cat's Kitten's". She can been seen on Fox's Hit TV show "Glee", as well as a lead in Beyonce's "Who Run the World" Music Video. One of Cat's most recent projects was filming "Alvin and the Chipmunks, The Roadchip."
Download the class registration form here. 
Burke Civic Ballet Master Class Series
~ Spring Edition ~
A new and exciting opportunity for dancers (Ballet levels Adv 2, 1,AdvPro) to receive training from guest ballet instructors on Sundays at Buffa's Dance Studio.
ABOUT VIRGINIA BRITTON
Virginia Britton has lived in many locations nationwide and abroad, studying ballet in most of them. She has studied with the School of the Washington Ballet, the Royal Ballet and was accepted into the Corps de Ballet of the Russian-directed Panama National Ballet. She attended college at the University of the State of New York with a Bachelor of Arts. From there, Ms. Britton danced with the Metropolitan Opera at Lincoln Center, the American Ballet Theater, the National Ballet of Canada, the Chicago Ballet and Leap Forward in San Francisco. Series Dates (please select those attending):
 Sunday, April 24th – 2 -4p.m.
 Sunday, May 1st – 2-4p.m.
Cost: $25 per Sunday to benefit the Burke Civic Ballet
Please download, print and fill out the registration form and turn into the desk.